TERMITE CONTROL
There is no better defense against termites than a customized home treatment plan from Eastern. After a comprehensive inspection of your home, Eastern will prescribe a customized combination of treatment methods designed to help protect your biggest investment. Eastern bases its treatment techniques on your house's specific construction type because we understand that every building is unique.
Eastern delivers the world's best value in termite control. You'll receive written specifications, customized diagrams and an inspection report after your consultation. And, if termites happen to return following your treatment, we promise to re-treat the problem area at no additional charge.*
Subterranean Termites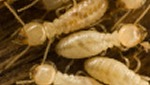 Subterranean termites live in colonies in the soil. They require moisture from the soil to survive, and can tunnel hundreds of feet to reach feeding sites. To reach food above ground, they build mud tubes for travel to protect them from exposure to light, air and enemies.
Ask about our Lifetime Renewable Termite Protection Plan that includes inspections upon request, and any necessary future termite control retreatments to your home.
Stop Getting Bugged!
Our continuous Service Plan has been customized to fit your home's construction and needs for protection against termites. We have been serving New Jersey residents since 1986, and we'll be there when you need us.
Eastern will inspect your home and determine the its best course of treatment. Liquid treatments with Termidor® are the most effective means known to control termites. Termidor® not only stops termites, it kills them.
Termidor® eliminates the colony.
* Eastern's Service Plan ensures continuous protection. If termites return to your home, so will we. Plus, our Service Plan includes annual inspections upon request to ensure your home is termite free. An annual service warranty renewal fee is required.

What are the signs of termites?
Unless there are easily visible signs of active termite infestation, you probably won't detect termites because they forage and hang out hidden from view. The most common way of detecting termites is the swarming of reproductive termites in the Spring, and their discarded wings. Not so obvious signs include wood that sounds hollow when tapped, and cracked or bubbling paint.
What do termites feed on?
They feed on cellulose-based material like wood, books, boxes, furniture and drywall coverings. Termites constantly forage and have been found over 150 feet away from a colony.
Why are termites a threat to my home?
Termite colonies work 24 hours a day, and signs of termite infestations can go undiscovered until serious damage is done. Because Homeowners Insurance typically does not cover termite damage, the detection of termite infestations and necessary termite treatments are the best ways to help protect your property.
How Our Solutions Work
Eastern uses advanced technology to ensure quick, lasting results. Yet all of our materials are among the safest available for your family, pets and your home.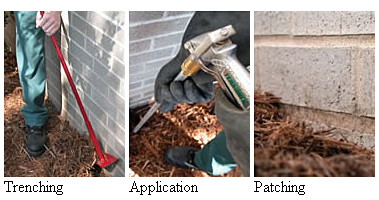 Liquid Defense System
The Liquid Defense System creates an immediate treatment zone at key entry points around and through your house's foundation.
As termites tunnel through treatment areas, they ingest the treated soil which also sticks to their bodies.
Control is almost immediate as the termites spread the material to other termites, reducing the colony's population until your home is termite-free.